Why Is Plaxico Burress Still a Free Agent?


During the preseason I was one of the many people wondering which veteran wide receiver would be the best fit and most influential player for their respective team. Gambling on a veteran can be risky, but sometimes this risk pays off huge dividends.
Let's take a look at how some veteran receivers did in the opening week of the NFL. Randy Moss caught a touchdown and had 47 receiving yards for San Francisco in Week 1 against Green Bay. Moss may have not panned out for the Vikings and Titans last year, but he seems to be accepting his role with the 49ers. He realizes this squad was very close to the Super Bowl last season and he knows what it takes to get the job done in the playoffs. Moss may not lead his team in receiving this year, but I think he'll be a good mentor to the young receivers in San Fran and give Alex Smith a reliable target on a week-to-week basis.


One receiver that didn't make the cut after the preseason was Terrell Owens, who has had trouble finding a job the past few seasons. The main reason for Owens not making the cut was the play of another veteran – Braylon Edwards. Plus, Seattle has a lot of young receivers that coach Pete Carroll figured gave his team a better chance to win. And let's face it, there was no way Owens would have gave it his all on special teams as he would have been the third or fourth receiver for the Seahawks. Edwards and rookie quarterback Russell Wilson seemed to be on the same page for the Seahawks as he led the team with five catches and 43 yards.

None of us can forget Chad Johnson, formerly Chad Ochocinco, and his short stay in Miami. Despite looking good in the preseason and in line for a top spot in the receiving corps, Johnson was let go on national television on 'Hard Knocks' after some off the field issues. Johnson has since been formerly charged and has other problems to deal with than opposing team's cornerbacks.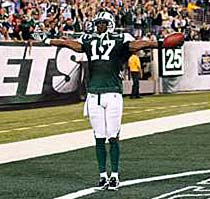 And then there's Plaxico Burress. The veteran is still a free agent and has yet to receive a shot this season. I have to say I'm shocked no one has given Burress a chance yet. He caught eight touchdowns last year for the Jets and was a big-time threat in the red zone. Plenty of teams have trouble putting up points, especially when they get within the 20-yard line. Granted he didn't pile up a ton of yards, but as long as a receiver can go up and get the ball in the end zone he has plenty of value. I know Burress has had some off the field troubles in his past and a lot of players get second and third chances in the NFL – just look at the Dallas Cowboys. I can also guarantee Burress is better than some receivers on current NFL rosters. So why not take a chance on him? I'm really not sure. I'd love to have Burress on my team. He's screwed up in the past and could be a mentor to some of the younger receivers and give your franchise some big plays on game day.


Here are a few teams that should think about giving Burress a shot, sooner rather than later.


The Cowboys could use Burress in the red zone, giving them another big target. With Jason Witten not looking 100 percent, Burress would be a good addition to the squad. I know Dallas has some young talent on the roster, but he could be a good mentor to Dez Bryant and steer him clear of trouble. Plus with Miles Austin was hindered by hamstring issues last season, so Burress would be some insurance for the Cowboys just in case the injury bug shows its face again.
How about a team I've already mention in this blog, the Dolphins. Miami took a chance on Johnson and it seemed like it was going to pay off. He gave them ratings on 'Hard Knocks' and some nice plays on the field. Burress would be an instant improvement for Miami and give rookie Ryan Tannehill someone to throw the ball to. Besides can anyone name a receiver on the Dolphins? Anyone…anyone? I thought so.


Another team that could benefit from adding Burress would be the Browns. Cleveland, like Miami, has a rookie at the helm of the offense and needs a sure-handed receiver. This may not be the best fit for Burress because I'm sure he wants to play for a contender, but when push comes to shove he'll probably take any offer he can.


The Jaguars had trouble scoring last season, so Burress would give second-year quarterback Blaine Gabbert a solid option. Jacksonville went out and overpaid for Laurent Robinson in free agency, but could easily get a bargain with Burress. Just like with the Cowboys, Burress could help keep rookie Justin Blackmon out of trouble and work with him on and off the field.
Have a Comment?
Do you have a comment about NY Sports? Here's the place to make it -- and let others read it and respond.
---
From Why Is Plaxico Burress Still a Free Agent to New York Jets Blog | The Best NY Sports Blog | NY Giants Blog | NY Yankees Blog | NY Mets Blog | NY Knicks Blog | NJ Nets Blog | NY Sports Fan Forum | Current NY Sports News | Top Ny Sports Blogs | The Best NY Sports Videos | NY Sports Fan Gear |
---
Homepage | About Us | Contact Us | Questions |
---