Who are your Top Ten All-Time Mets?
As a kid growing up on the East Coast, I attended my first New York Mets game in the early 1970s at Shea Stadium versus the Montreal Expos. From that point on, you could say I was hooked on the Blue and Orange.
Even though I have called San Diego home now for some 17 years, I still root for the Mets, see them whenever possible on their West Coast trips, and cherish the memories of going to Shea over the years. I may also be the only person following the team that misses Shea Stadium and wishes Citi Field had never been built.

So with having followed the club for some 40 years, I have been lucky enough either in person or on television to watch what I consider some of the best MLB players the game has seen in my lifetime.

While compiling a list of who I believe are the 10 best Mets of all-time, I'm sure some fellow fans will agree or disagree with the selections. Trust me; I would not have it any other way.

With further ado, here is who I feel are the 10 best to ever wear the Mets uniform in my lifetime:

10. Gary Carter – The recent passing of "The Kid" brings back a flood of memories from the second of two Mets World Series titles. Given I was only age four when the Mets won their first one (1969), '86 holds a special place in my baseball memory. Along with his bat and coming up with key hits when needed, Carter's handling of the pitching staff is what made him special in my mind. After a stellar career with the rival Expos, Carter's time in New York was a key factor in the team winning its second crown;

9. John Franco – While some will argue Tug McGraw, Roger McDowell, Jesse Orosco or even Armando Benitez, Franco to me is the best closer in team history. Along with his duration with the team (more than a decade), Franco was a good leader in the clubhouse during some rough seasons for the club prior to meeting the Yankees in the 2000 Subway Series. Number four on the all-time saves list, Franco (leads Mets with 276 saves) was not the dominating fireball reliever that Benitez was, but he had a much longer tenure and impact in New York than AB ever did;

8. David Wright – The team's current third baseman took over as the single face of the franchise this off-season with the departure of Jose Reyes to the Marlins. While Wright could be traded or leave the team in the very near future as his contract expires, he has compiled some impressive numbers since coming up through the team's farm system. Wright has put together five consecutive campaigns with a .300 average, recently tied Darryl Strawberry for the franchise lead in RBI (733), leads the organization in career doubles (282), and could become the club's all-time hits leader (Ed Kranepool, 1,418) before too long;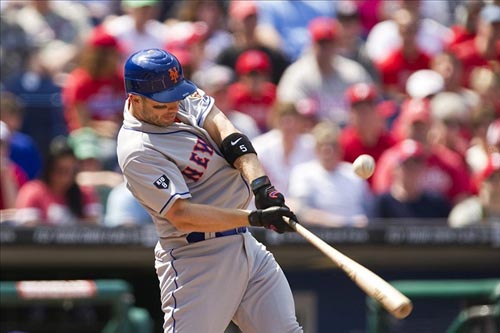 New York Mets third baseman David Wright (5) singles during the first inning against the Philadelphia Phillies at Citizens Bank Park. Photo courtesy by Howard Smith-US PRESSWIRE
---

7. Jose Reyes – While I thought twice about putting someone on the list that is no longer with the club, there is no denying the impact Reyes had with the club during his decade in Queens. Up until Reyes' entire body of work with the franchise, I had Bud Harrelson as the best shortstop in franchise history. Reyes, who holds the distinction of being the only Met to ever win a batting title (2011, .337 average), leads the club all-time in triples (99) and stolen bases (370). He was always a threat (except during his injured days) to steal after getting on base with a walk or single;

6. Keith Hernandez – Even though number 17 did not spend a ton of years in The Big Apple, there is no denying his impact with the Mets. One of the most accomplished defensive first basemen the game has seen in the last 30-plus years, Hernandez was the glue that held the '86 World Series team together. Hernandez would go on to win 11 Gold Gloves during his time with the Cards and Mets, along with batting over. 300 seven times in his career;

5. Dwight Gooden – "Doc" as he was known to his teammates, was the next big pitching star the Mets had following the days of Tom Seaver and Jerry Koosman. When Gooden wrapped up his Mets career, he had tallied 157 wins and 1,875 strikeouts. When Gooden would get the ball, the Mets has as sure of a thing to getting a win as they could possibly have (went 24-4 in 1985 to win the N.L. Cy Young). Despite all of his impressive numbers, some will remember him for his off the field battles with drugs. That being said, number 16 was one of the best starting pitchers of his era;

4. Darryl Strawberry – Paired alongside Gooden, Strawberry helped account for the one-two punch that was stellar hitting and fielding to go with dominant starting pitching. Also like Doc, Straw battled his share of demons over time, something that would impact his image with Mets fans. Straw belted 252 home runs, led the franchise in RBI for the longest time until being caught this year by Wright (733), and was another key cog in the '86 WS team;

3. Jerry Koosman and Ed Kranepool – I have these two tied in this spot, with many recent generation Mets fans likely shaking their heads. As a kid, I remember just how good of a pitcher number 36 was (140 wins as a Met, 1,799 KO's), and it still ticks me off to this day that the organization never retired his number. While a number 41 would rightfully grab most of the attention during his days on the mound for the Mets, Koos wasn't too shabby himself. Koosman's 1976 season consisted of 21 wins, while he was also a key component of the 1969 World Series-winning Mets, throwing a complete game to ice the pennant. Kranepool, meantime, is another one of the blasts from the past in Mets lore. While today's generation did not get to see number 7 play, Krane was one of the few bright spots for the organization during some really dismissal years. He spent all 18 years in the big leagues with the boys in The Big Apple (1,853 games played), still maintaining a number of franchise records decades later. Joining the club during its inaugural season of 1962, Kranepool had a career-best batting average of .323 in 1975. He is the team's all-time hits leader in hits (1,418);

2. Mike Piazza – Although number 31 did not deliver the Mets a World Series crown in the famed Subway Series with the Yankees in 2000, Piazza is by far the best slugging catcher in MLB history. While he often got chastised for his inability to throw out runners stealing bases, Piazza's offense more than made up for what he lacked defensively. Piazza's numbers with the franchise include 220 home runs, 655 RBI, and the fourth-best batting average (.296). Clearly the face of the team during his time with the club, his number should be retired sooner rather than later by the organization;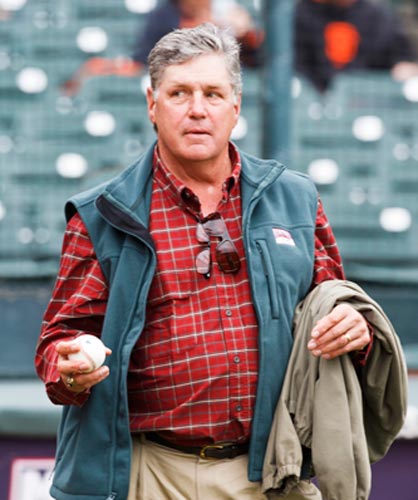 August 14, 2010; San Francisco, CA, USA; Tom Seaver watches batting practice before the game between the San Francisco Giants and the San Diego Padres at AT&T Park. Photo courtesy by Jason O. Watson-US PRESSWIRE.
---

1. Tom Seaver – For anyone that has ever followed or knows anything about the New York Mets, this was not a hard call to make by any means. "Tom Terrific" was and remains the most famous face of the franchise. I can tell you that when he was traded in the mid-1970s to the Reds I almost was brought to tears as a child. The team leader in wins (198) and KO's (2,541), Seaver was a huge reason in the Mets capturing their first WS crown in the magical '69 season. Also the only Mets representative in Cooperstown, the 1967 Rookie of the Year captured three Cy Young awards and won 20 games in a season four times with New York.

Honorable Mention – Howard Johnson, Jon Matlack, Cleon Jones, Tommie Agee, Mookie Wilson, Bobbie Ojeda, David Cone, Sid Fernandez, Al Leiter, Ron Darling, Lenny Dykstra, Wally Backman, Edgardo Alfonzo, Jerry Grote, Rusty Staub, Dave Kingman, Lee Mazzilli,

So there you have it.

There will surely be some names I omitted and fellow Mets fans may disagree with the number selections as they relate to importance. By all means, share with me your feelings on the greatest Mets of all-time, and Let's Go Mets.

Dave Thomas, who writes on items such as starting a small business and obtaining workers compensation insurance, writes extensively for online resource destinationBusiness.com. He is also a freelance sportswriter in his spare time.
Have a Comment?
Do you have a comment about NY Sports? Here's the place to make it -- and let others read it and respond.
---
From Who are your Top Ten All-Time Mets to NY Mets Blog | The Best NY Sports Blog | New York Jets Blog | NY Giants Blog | NY Yankees Blog | NY Knicks Blog | NJ Nets Blog | NY Sports Fan Forum | Current NY Sports News | Top Ny Sports Blogs | The Best NY Sports Videos | NY Sports Fan Gear |
Return to The Best NY Sports Blog Homepage
---