What Should Carmelo Anthony Take From His Team USA Experience at the 2012 London Games?
By Evan Chadwick


There is no doubt that Carmelo Anthony had a substantial impact on Team USA's march to gold. However, with the at times erratic play of Team USA, which ranged from near triple digit victories to near monumental collapses, Knicks fans may have serious doubt as to whether Carmelo's time with this team of superstars will ultimately have a positive effect on how he plays for the Knicks this season.
The glass half full approach would lead Knicks fans to believe that this year's Olympics proved without a doubt that Melo can score. If there is anyone on the planet who did not know this fact before the Olympics, his 37 point performance in a mere 14 minutes of play against Nigeria should have put any lingering uncertainty to rest.


However, beyond this record breaking performance against a team that has a total of 1 NBA player on their roster, what provided the most positive reflection of the state of Melo's game was the fact that in limited minutes, he performed in an effective and efficient manner.


For the 8 games played,Melo averaged 17.75 minutes. In these limited minutes, Melo's produced 16.25 points, 4.75 rebounds and 1.6 assists per game, which made Melo without a doubt, the most efficient bench player on Team USA' roster.


However, what was even more impressive was the fact that the less minutes Melo played, the more effective he was. If you ignore the 37 point performance, Melo topped double digits in scoring 4 other times all while playing less than 25 minutes.


Although these points simply reinforce the fact that Melo is one of the best scorers in the game, what is infinitely more important, due to Melo's known habit of never turning down a shot he did or didn't like, is that with this 16 point average, Melo was hitting 53 percent of his shots. This respectable field goal percentage was 10 percent higher than his less than impressive 43 percent field goal percentage in the 2012-13 NBA season.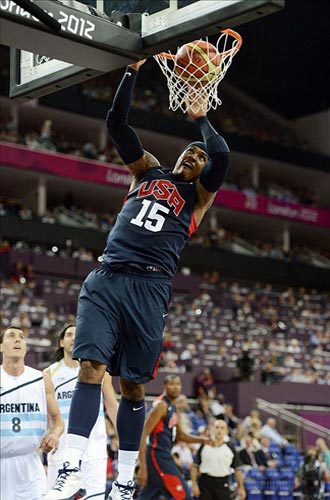 Aug 10, 2012; London, United Kingdom; USA forward Carmelo Anthony (15) dunks against Argentina during the men's basketball semifinals in the London 2012 Olympic Games at North Greenwich Arena. Photo Courtesy By Bob Donnan-USA TODAY Sports.


If there is weak spot toMelo's game,it is that his superstar scoring talenthas never transformed into an ability to, no matter how his J is feeling that night, give a solid and productive effort that will lead his team to one of those all too important grind-it-out victories.


At 6' 8", it appears, unless the Knicks make some other key acquisitions in the coming months that Melo will be the 6th tallest man on the Knicks' roster and, at times, depending on rotation, he may even be the tallest Knick on the floor. Although it is yet to be seen exactly how Coach Woodson will use Melo this year, there will surely be times, when the Knicks will benefit the most in havingMelo in a position to catch the ball within 8 feet of the basket.


If he does get these touches Melo may, with a little tutelage from the newly polished post game of Amare (thank you Hakeem), emerge from his Team USA experience with a new found appreciation that he can be more productive when taking 15-20 good shots each game, then when he elects to take 30 mediocre ones.
Have a Comment?
Do you have a comment about NY Sports? Here's the place to make it -- and let others read it and respond.
---
From What Should Carmelo Anthony Take From His Team USA Experience at the 2012 London Games to NY Knicks Blog | The Best NY Sports Blog | New York Jets Blog | NY Giants Blog | NY Yankees Blog | NY Mets Blog | NJ Nets Blog | NY Sports Fan Forum | Current NY Sports News | Top Ny Sports Blogs | The Best NY Sports Videos | NY Sports Fan Gear |
---
Homepage | About Us | Contact Us | Questions |
---