The Tale of Two Ganaways on the New York Jets

The Jets didn't have too many picks early in this year's draft, but are hoping they struck gold in the sixth round. That's where New York selected running back Terrance Ganaway with the 202 overall pick. That's not the only Ganaway that would find his way on to the roster this offseason as the Jets signed receiver DaMarcus Ganaway to a reserve/future contract. Both will be fighting for a spot on the roster during preseason, each bringing something different to the table.
Terrance Ganaway, out of Baylor, is the more well known of the two rookies. Terrance played alongside of Robert Griffin III last year, helping Baylor to a 10-3 record and win over Washington in the Alamo Bowl. That game made some history as the Bears rushed for 482 yards on the ground, 200 yards coming from Ganaway. He also scored five touchdowns in that contest. He made some history at Baylor as well, surpassing 200 yards three times in 2011 and finished the season with 21 rushing scores. He finished his career with the Bears with 2,051 rushing yards, ninth all-time for Baylor.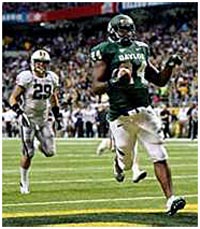 Terrance Ganaway rumbles for one of his 21 touchdowns for the Baylor Bears in 2011. Courtesy of www.chron.com
It wasn't an easy road to the NFL for Ganaway. He played in 13 games for Houston in 2007, starting one game. He rushed for just 550 yards and six scores in that season. The following year he was enrolled at Texarkana Community College, but did not compete in football as they did not have a team. Ganaway's mother lost her battle with kidney cancer, which led to his transfer to Texarkana. After a year away from the game, Ganaway found his way to Baylor and didn't make a huge impact until his senior season. Better late than never and Ganaway credits his determination to his mother, who told him not to give up on his dreams.


Terrance didn't give up and now looks to be in line for the No. 2 running back spot for the Jets behind starter Shonn Greene. Ganaway is bigger than the other backs in New York's stable; the only other big running threat is backup quarterback Tim Tebow. So why did no one take Ganaway sooner than the sixth round? That is a tough question. He played for Baylor, which competes in a tough conference – the Big 12. He set some records during his senior season and was a key component to the Bears' success. The Jets got one heck of a football player; one that they hope pays huge dividends this season. Remember Terrell Davis was a sixth-round selection by the Broncos, so there are always diamonds in the rough. I'm not saying Terrance will go on to have a comparable career to Davis, just drawing the comparison of where they were drafted. But I do think the Jets got a steal with Terrance so late in the draft.

New York is a run-first team as coach Rex Ryan loves to control the clock, so Terrance should be an immediate contributor for the Jets. Not to mention that he's driven to make his late mother proud, so he'll have something to prove right out of the starting gate. Greene was the workhorse for New York in 2011, totaling 1,054 yards on the ground on 253 attempts. The next closest rusher was veteran LaDainian Tomlinson and he gained only 280 yards for the Jets. Look for Terrance to be a bigger contributor than Tomlinson was last year as he'll be the bruiser that the Jets need to go with Greene's speed.

Now for DaMarcus Ganaway, an undrafted rookie out of Kentucky Wesleyan, who was signed to a reserve/future contract with the Jets this offseason. DaMarcus is one of five rookie receivers currently on New York's roster. Seeing how the Jets have little depth at that position behind Santonio Holmes they loaded up on young receivers. Stephen Hill will likely be the next option for Mark Sanchez, but if DaMarcus makes the roster he'll give Sanchez a big target. At 6'2'' and 185 pounds DaMarcus could be a deep sleeper on the roster. He started 34 of his 40 games at Kentucky Wesleyan, catching 214 passes for 2,653 yards and 22 touchdowns.

While he's a longshot to make the team, DaMarcus may be able to secure a spot on special teams and eventually earn some playing time on offense. Considering there are no big names after Holmes, tight end Dustin Keller and Hill in the receiving corps, the competition should be fierce. I'll go out on a limb and say DaMarcus makes the team as the No. 5 receiver and gets some run late in the year for the Jets. Consider him a deep sleeper, but a player that could pay off down the road for the Jets. There is plenty of playing time to be won during the preseason.

While Terrance and DaMarcus both took different routes to get to where they are at, both have found their way onto an NFL roster. It will take a lot of hard work and determination, but the rookies will have an opportunity to see their dreams come true. I see both contributing on some level this season for the Jets, Terrance more than DaMarcus. But on a team that loves to make headlines, there isn't one better than the tale of two Ganaways'.
Have a Comment?
Do you have a comment about NY Sports? Here's the place to make it -- and let others read it and respond.
---
From The Tale of Two Ganaways on the New York Jets to New York Jets Blog | The Best NY Sports Blog | NY Giants Blog | NY Yankees Blog | NY Mets Blog | NY Knicks Blog | NJ Nets Blog | NY Sports Fan Forum | Current NY Sports News | Top Ny Sports Blogs | The Best NY Sports Videos | NY Sports Fan Gear |
Return to The Best NY Sports Blog Homepage
---