The New York Knicks' Future with Carmelo Anthony
By Aaron Sass
When I heard that Carmelo Anthony re-signed with the New York Knicks I was baffled. Especially after it was pretty much well known that Kevin Love was headed to the Cleveland Cavaliers. Now that Love heading to Cleveland is a done deal, it's even more baffling that Anthony wouldn't leave New York for Chicago this past off-season.
It definitely changes the calculus for betters, with sports betting systems like these, one could have predicted a Chicago Bulls championship with Anthony on the roster.
When looking at next year's free agents, there's not really a game changing name that's a realistic possibility. Yes, Amare Stoudemire will be coming off the books for the Knicks and will give them an abundance of salary cap relief. But who's out there that they can use that cap space on? Below I'll list the top unrestricted free agents next summer,
LaMarcus Aldridge
Rajon Rondo
Marc Gasol
Brook Lopez
There's almost no chance that LaMarcus Aldridge will leave Portland. Their a good young team with a lot of promise and have an up and coming superstar of their own in Damian Lillard. Now for the rest of those names who could have an impact – I don't know if Rajon Rondo can even play anymore as he's been battling injuries and has been stuck in a bad situation in Boston. It's a coin flip on whether or not Marc Gasol will leave Memphis as they've been a tough team in the western conference for the past couple of years now. As for Brook Lopez, I fully expect him to leave Brooklyn.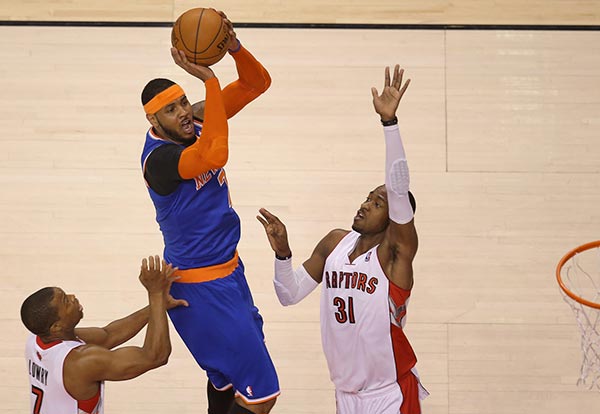 Now that the Knicks probably won't land a game changer in free agency next season, they have to look at the trade market. Who can they add? Maybe if Miami isn't good they can go out and get Chris Bosh. If Kobe becomes frustrated in Los Angeles maybe they can pull off a deal for him, which is unlikely. Unfortunately for the Knicks there aren't a whole lot of stars available via free agency or via trade.
In my opinion Carmelo just put himself right back in a bad situation. Leaving the Knicks for Chicago would have been the best thing for him. However, with Paul George's recent injury that leaves the east almost completely wide open. I still think it'll be Chicago vs. Cleveland in the eastern finals, but maybe New York can sneak in the playoffs since the east is so weak. And who knows, maybe they can make it to the second round and Carmelo will be satisfied and that'll make the Knicks more of an attractive option for upcoming free agents.
I fully expect Carmelo to demand a trade after next season when he realizes that nobody is coming to New York to help him out. Not only do I feel like it would have been in Carmelo's best interest to leave New York, it would have been in the Knicks best interest to let him leave. At best they'll be near the bottom of the conference and struggling with an unhappy superstar. That's not really a place that you want to be in.