The New York Jets and Tim Tebow
I've already addressed the Jets' biggest issue this offseason – dealing with the quarterback situation. Coach Rex Ryan has made it clear that Mark Sanchez is the starter and Tim Tebow is the backup – but Tebow will be used more than a typical backup. So why all the hype surrounding Tebow? Well, that's an easy question to answer: the media. We in the media love to stir the pot and create controversy so there is something to talk about at the water cooler at work. So I'll give my rant on the media, Tebow and his role with the Jets.
The latest person in the media to voice his opinion on Tebow is former Patriots linebacker Tedy Bruschi. Bruschi had a pretty blunt message for Tebow this week on ESPN – stop talking to the media. His stance is a backup shouldn't be talking to the press. It is Bruschi's stance that only the starter should be available to the media, giving the team one voice. I don't necessarily disagree with Bruschi, but they do things differently in New York compared to New England. Coach Rex Ryan doesn't have a problem with anyone talking to the media. I think much of Bruschi's point-of-view stems from the rivalry between his former team and the Jets. Even after his playing days, Bruschi still holds a grudge. It seems silly but that's the way it is. Bruschi thinks everything should run like it is done in New England. To think that way after his playing days goes to show how big of an influence coach Bill Belichik has on his players.
Let's get back to Tebow and the Jets though. New York traded for Tebow this offseason and didn't give up much (a fourth-round and a sixth-round selection, while receiving a seventh-round choice) for a quarterback that rallied and led the Broncos to the playoffs last year. Tebow helped Denver lead the league in rushing by rumbling for 660 yards and six scores in 2011, but threw for more than 200 yards just twice in 12 regular-season games. Despite being the starter for the Broncos, those numbers aren't eye-popping for an NFL quarterback. If the Jets are true to their word and use Tebow as a backup, I'd have to say this trade was one of the smarter moves.
So many teams shuffled through quarterbacks in recent years (Colts with Peyton Manning last year) and learned the hard way just how valuable a solid backup is. Curtis Painter showed us all that he doesn't have what it takes to be a legit backup in this league, but back to Tebow. I believe Tebow is a heck of an athlete and has the potential to be a solid player in the NFL; but when push comes to shove I don't think he'll get another shot to be a full-time starter in the league. He is a utility guy that can give his team a boost and is a suitable backup for any team.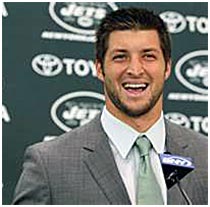 Courtesy of www.wjbc.com
Don't get me wrong, I'm a fan of Tebow. He seems to be a great guy and is a good football player. But is he a Peyton Manning? Not even close. Denver lured Manning in free agency and knew that he was probably the only quarterback to be brought in that fans wouldn't be upset about replacing Tebow. In New York, the offense under the leadership of coordinator Tony Sparano makes the addition of Tebow appealing. Sparano made the Wildcat package work in Miami with running back Ronnie Brown at the helm. The Wildcat is perfect for Tebow, which will give the Jets some versatility. That's why if Ryan and Sparano utilize Tebow right, this offense could be dangerous. Tebow gives them another running option besides Shonn Greene and a dangerous weapon in the red zone.
Only time will tell how this unfolds, but I'm sure we haven't heard the last of this quarterback situation. Mini-camp has started and Tebow is listed as the No. 2 quarterback, but many will still speculate that there is a competition. The bottom line is coach Ryan has made up his mind and realizes he has a player on his roster that excels late in games and led his team over the Jets last season. Tebow scored with less than a minute left in the game on a 20-yard run, giving Denver the 17-13 win. Ryan knows if he needs a late score he can turn to Tebow and see if his fourth-quarter magic continues in New York. While fans will be ecstatic, that could make a controversy. But that's a long ways off. Until there's any reason for us to doubt what Ryan and the Jets are saying, Tebow is the backup and is excited to be a Jet.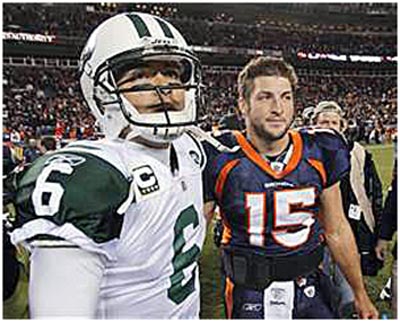 Courtesy of www.toledoblade.com
---
But I can guarantee that this is not the last time we'll speak of Tebow, Sanchez and the Jets' quarterback situation. And as part of the media, I'll continue to have my own voice. My advice to Tebow is to work hard and your time will come to shine (or attempt to) again. As for Sanchez he needs to stay focused and use Tebow as motivation to be the best signal caller he can. He's led his team to the playoffs before and can do it again, if he doesn't lose the hunger to want to be the best. He is the voice and leader in the huddle, so his teammates will listen to him. New York is Sanchez's team until he gives the coaches a reason to think otherwise.
Have a Comment?
Do you have a comment about NY Sports? Here's the place to make it -- and let others read it and respond.
---
From The New York Jets and Tim Tebow to New York Jets Blog | The Best NY Sports Blog | NY Giants Blog | NY Yankees Blog | NY Mets Blog | NY Knicks Blog | NJ Nets Blog | NY Sports Fan Forum | Current NY Sports News | Top Ny Sports Blogs | The Best NY Sports Videos | NY Sports Fan Gear |
Return to The Best NY Sports Blog Homepage
---