The Brooklyn Nets Go All In, Will They Get Dwight Howard
By Bryan Knowles

Well, so much for the list of one.

Dwight Howard, all-world center, would-be Olympian, and disgruntled Magician, had made it very clear. "There's only one team on my list", he said, "and if I don't get traded there, I'll play the season out and explore my free agency after that." Reports made it clear that that one team was the New Jersey….err…Brooklyn Nets. For a team attempting to brand itself more up-market – and get their fans to forget a 22-44 campaign that had them dwelling in the center of a fairly weak Atlantic Division –it would seem grabbing Howard would make sense. That is, it would have made sense before they went all in on Joe Johnson and Deron Williams. It looks like Brooklyn will have no say in where Superman calls home.
Of course, the only reason Howard is demanding a trade now is because of his panic earlier in the year. He was scheduled to reach an early termination clause in his contract, and become a free agent this offseason, free to go wherever he so chose. He had requested a trade in the preseason, and maintained, throughout the entire season that he would not play for Orlando…before, at the last moment, abruptly changing his mind and opting to sign a waiver, which was reported as guaranteeing him to be in Orlando in the 2012-2013 season. No satisfactory reason was ever given for the abrupt change of heart, and the fact that he's now demanding a trade, again, seems to indicate there never WAS a satisfactory reason.


Rumors suggest Howard was troubled by criticism he was receiving on twitter, and made a panic move to re-sign, only to regret it shortly thereafter. One way or another, this situation has been bungled. It's bordering on LeBronian levels of disaster – you don't want your exit to be described in the same breath as The Decision. But while LeBron took his talents to South Beach, it looks like the only place Howard is going, at least at the moment, is Disney World. The Magic will be lucky to get twenty cents on the dollar for the disgruntled superstar, and any team not from Brooklyn making a deal for Howard has to know it's a one-year rental, further limiting any value the Magic could get from it. In short, Howard shot himself in the foot with poor decisions.


Don't expect Brooklyn to make a trade for him. They cashed their chips in already. While rumors continue to float about possible trades involving multiple first round draft picks, the fact is there just aren't enough pieces left in Brooklyn to make any deal worthwhile – not to mention the monetary constraints. There are rules here – they've signed contracts ensuring they can't go over the luxury tax, meaning they have to stay under $74,307,000, and they're actually already over that. Some rapid cutting and slashing of some of their unsigned free agents – Gerald Green, Kris Humphries, and Brook Lopez – might get them low enough to afford Superman's twenty million dollar contract, but it's highly unlikely. ESPN's John Hollinger has broken down the math, if you're so inclined. The long and the short of it is, there's just no room for Howard in Brooklyn.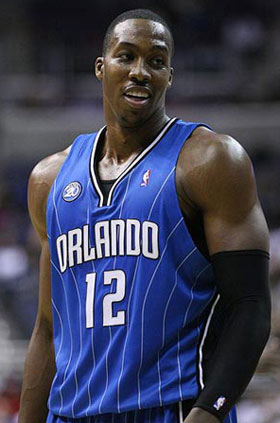 But Brooklyn knew this—and they've got to be happy with what they've done. Joe Johnson's never going to be a top-of-the world superstar, and he's dramatically overpaid for what he produces, but the Nets now get to roll out a lineup of Johnson, Williams, Gerald Wallace, Brook Lopez and…well, someone, assuredly. Quite possibly MirzaTeletovic, of Bosnia. That's a lineup that can make some noise. No one's going to confuse that with the big three in Miami or Boston, but the team finished 22-44 last year! If they can improve enough to pass the 76ers and/or Knicks and grab a playoff spot in their first season in Brooklyn, that's a win right there for owners Mikail Prokhorov and Jay-Z. In addition, they hardly gave up anything for Johnson – a boatload of expiring contracts and a draft pick that wasn't even theirs to begin with. While Atlanta is salivating over the idea of being major players in free agency in 2013, the Nets couldn't wait that long – they needed to provide something to draw fans away from the Knicks and Linsanity in their first season in Brooklyn, and the trade and re-signing shows their commitment.


This should excite Brooklyn fans! They're a force to be reckoned with for a playoff slot. Williams and Johnson should both see their individual numbers go up as they no longer can be double teamed at will, making both of them happier. It'll allow Wallace to focus more on defense and not be required to produce as many points, which fits his skill set better. All of a sudden, everyone slides into a more comfortable role – that's what adding a player like Johnson does. Would they have liked to get Howard? Of course – no one would ever say Johnson is anywhere near the quality of player Howard is. But with the Magic not biting on what the Nets could float in a trade, they cut their losses and went out to make the next best deal they could. That should be commended.


So, what's next for Dwight? It's not the Olympics, due to his back injury – he'll join a lengthy list of injured superstars who will be watching in London from afar. Who would rent Howard for one season?


Don't count out the Rockets, who all of a sudden seem to be the leaders in the clubhouse. The chances that Dwight would resign with Houston are slim to none, but, just like the Nets are trying to go from the basement to the edge of the playoffs, the Rockets are trying to go from the edge to a solid middle. They have a ton of expendable chips. They could roll out a starting lineup of Howard, GoranDragic, Courtney Lee, Chandler Parsons, and Luis Scola, with decent depth – and still have a midlevel exemption to grab some more help. The Southwest division is anchored by aging giants, and there is room for an enterprising team like Houston to try to make a dash for the top – and once you get into the playoffs, anything can happen. They would be stuck for several years after with all the bad contracts Orlando can dump, but a great season with Howard would help ease those pains.


And after that? Well, Atlanta's got cap room now, because they traded with Brooklyn, and Howard is FROM Atlanta, as is fellow 2013 free agent Josh Smith…
Maybe I was wrong. Maybe Brooklyn WILL have a say in where Superman calls home…in a roundabout way.
Have a Comment?
Do you have a comment about NY Sports? Here's the place to make it -- and let others read it and respond.
---
From The Brooklyn Nets Go All In, Will They Get Dwight Howard to NJ Nets Blog | The Best NY Sports Blog | New York Jets Blog | NY Giants Blog | NY Yankees Blog | NY Mets Blog | NY Knicks Blog | NY Sports Fan Forum | Current NY Sports News | Top Ny Sports Blogs | The Best NY Sports Videos | NY Sports Fan Gear |
---
Homepage | About Us | Contact Us | Questions |
---