NFL Comparisons: The 2007 and 2011 New York Giants
First off let's congratulate the New York Giants on winning the Super Bowl last season. This is the Giants second Super Bowl win in the past five seasons, both wins coming versus the Patriots. New York will try to get back to the promise land again this year. But does anyone remember what happened the last time the Giants won the championship?
They followed that campaign up with a 12-4 record, finishing first in the NFC East. Three of the four losses came in the last four games of the season, as New York limped into the postseason. The Giants eventually lost to the Eagles in the Divisional round, New York's second loss to Philly over a month's span. New York seemed poised for another championship run. So what got them derailed? Turnovers. The Giants committed three turnovers in that playoff loss to the Eagles.
It's hard to win games when you commit more turnovers than takeaways. That's Football 101: hold on to the ball. New York has a target on their back and the rest of the teams in the NFL will bring its A-game when they face the Giants. The men in blue will have to gear up for another tough run as the NFC East has a lot of fresh faces and are ready to knock off their division foe. The Redskins, Eagles and Cowboys will all be ready for the G-Men.
The Giants got things done much differently in 2011 than they did in 2007. Let's take a closer look at both squads and see how New York got it done. In the Giants run for the championship in the 2007—08 season they averaged 21.9 points per game and were a run-first offense. They were led by Brandon Jacobs on the ground as he rumbled for 1,009 yards and four touchdowns. In 2011, the Giants didn't have a 1,000-yard rusher as Jacobs and Ahmad Bradshaw were both held under 700 yards. They combined for 1,230 yards and 16 touchdowns (659 yards and nine touchdowns for Bradshaw & 571 and seven for Jacobs.
I know what you are going to say, the Giants still had a legit running game in 2011. That is absolutely correct, but they did so with a dual-threat attack and a strong passing game. Eli Manning threw for a career-high 4,933 yards and 29 touchdowns last season. That total was more than 900 yards more than any other season in his eight-year career.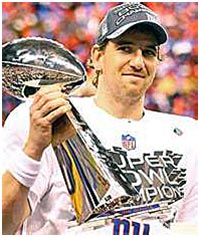 Courtesy of sportsillustrated.com
Manning has emerged as one of the best quarterbacks in the league and now has more Super Bowl victories than his big brother, Peyton. Eli had a few big-time options to throw the ball to in 2007 – Plaxico Burress, Amani Toomer and Jeremy Shockey being the key pieces. Just a few years later all three are gone and Eli turned to mostly unproven receiving corps. Manning had two receivers surpass 1,000 yards – Victor Cruz (1,536 yards and nine touchdowns) and Hakeem Nicks (1,192 and seven). Manning has both of them back this year and will lead the passing attack once again.
Cruz turned it up a notch last year and will try to build off his career campaign. The Giants will need him to have another big year, continuing his maturation as an NFL receiver. Manning and Cruz should be able to grow into a nice duo in the league for years to come. Watch for Cruz's salsa dance celebration again this year – the more he celebrates the better the Giants will do.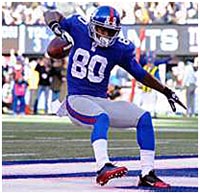 Courtesy of www.laconexionusa.com
How about some similarities you ask? In both runs the Giants won it all after earning a playoff berth as a Wild Card team. In both seasons Jacobs played a big part in the running game, but he's not with New York this season. The Giants drafted two running backs in this year's draft and have a stable of young backs that are ready to step up and will be given a shot. Look for Andre Brown, David Wilson and D.J. Ware to get some opportunities this preseason to show what they bring to the table. Another similarity is how Manning has the 'it' factor late in games. He led his team to six game-winning drives in 2007 and eight in 2011.
Seven of those were fourth-quarter comebacks as well. Seeing how New York won just nine games last year, Manning showed he has what it takes to get the job done when his back against a wall. We can forget about the defensive side of the ball either. The Giants always seem to have a defense that can pressure an opposing team's quarterbacks and can get key stops when needed. In 2011, the Giants recorded 48 sacks, recovered 11 fumbles and made 20 interceptions. In 2007, the G-Men logged 53 sacks, made 15 interceptions and recovered 10 fumbles. Considering some key components of that defense was gone in 2011 (as well as the defensive coordinator) just goes to show how well coached this team is.
That brings us to Tom Coughlin, who continues to lead by example. Not everyone agrees with his methods, but he's respected in that locker room, which goes a long way. And with two Super Bowl wins under his belt, Coughlin is one of 12 coaches with at least two wins in the big game. Fans may not like him all the time, but they have a superb coach at the helm of the team and an elite quarterback under center. Only time will tell how the Giants will fare in 2012. The one thing we know is that they'll be competitive and in the playoff hunt.
Have a Comment?
Do you have a comment about NY Sports? Here's the place to make it -- and let others read it and respond.
---
From NFL Comparisons: The 2007 and 2011 New York Giants to NY Giants Blog | The Best NY Sports Blog | New York Jets Blog | NY Yankees Blog | NY Mets Blog | NY Knicks Blog | NJ Nets Blog | NY Sports Fan Forum | Current NY Sports News | Top Ny Sports Blogs | The Best NY Sports Videos | NY Sports Fan Gear |
Return to The Best NY Sports Blog Homepage
---