New York Yankees Update: Where Does Alex Rodriguez Go From Here?
By Jason Fryer

Alex Rodriguez has gone from being considered one of the best players of all time to being benched for a few of the 2012 Playoff Games (Game 4 ALDS and Games 3 and 4 of the ALCS) along with being pinched hit for during the 9th inning of Game 3 of the ALDS when Raul Ibanez hit a Game Tying Pinch Hit Solo Home Run. So with that said, where does this leave us with one of the best hitters of the past 15 years?
The Yankees now have 4 choices to chose from: Keep him, Put Him on Irrevocable Waivers, Trade him, or Outright Cut Him.

This is something the Yankees are going to have to contemplate and look at during the 2012 offseason. Before providing my prediction of what I feel will happen, I want to breakdown and analyze all of the possible situations.


Keep Alex Rodriguez?

From a financial standpoint, this is bar-none the best financial investment the Yankees could do in bring Alex Rodriguez back and leting him play out the longevity of his contract in Yankee Pinstripes. Rodriguez is signed through the 2017 Season for over 21 million per year so it has to reach a breaking point (EX: 2008 Many Ramirez in Boston) for the Yankees to decide on doing one of the other situations. In my mind, I feel the Yankees are almost at that point (if not already there) so I think the'll examine every situation before making a final decision.


Put Alex Rodriguez on Irrevocable Waivers?


So what are Irrevocable Wavers? Irrevocable Wavers occurs when a team places a players on wavers for a set period of time. If the player is claimed by a team during that time, then the team that claimed the player is forced to pay the entirety of his contract. One significant player that was places in Irrevocable Wavers was Manny Ramirez during the 2003 when the Red Sox gave teams 48 Hours to acquire the former All-Star Left Fielder without having to give up anything in compensation. As it turned out it was the best thing for both Boston and Manny Ramirez that no one claimed Ramirez as the next season the Red Sox went on to win the World Series.


As for Rodriguez, do I feel the Yankees will attempt this?


No question in my mind the Yankees will put Alex Rodriguez on Irrevocable Wavers and see what's out there? This sound like a great plan but in fact there's 2 significant problems with this senario.
A-Rod has a no Trade Clause in His Contract: Alex Rodriguez might be upset that he's been both pinched hit for and benched for during a number of games this postseason, but even with all that said ,I'm still not sure he would accept a trade to another team. In fact, A-Rod has been asked in the past if he'd agree to wave his no-trade clause and each time he's responded with the same answer...no. With that said, that was before he was being benched by Manager Joe Girardi and booed during each at-bat at of the Playoffs at Yankee Stadium.
Rodriguez Has 119 Million Left on His Contract: No that's not a misprint, Alex Rodriguez has 5 years and 119 Million Dollars left on his current contract. So with that said, I'm pretty sure no team in baseball (yes not even the crazy spending Dodgers) wouldn't take on a contract like that and because of that I think its safe to say this senario won't work.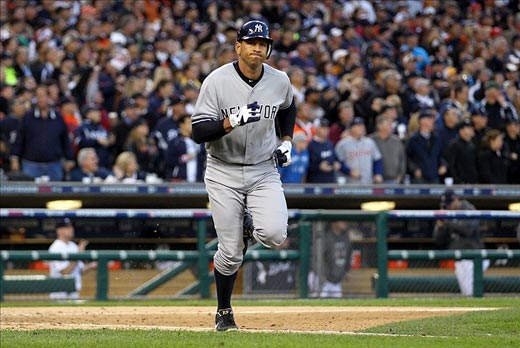 Oct 18, 2012; Detroit, MI, USA; New York Yankees pinch hitter Alex Rodriguez reacts after flying out in the during the 6th inning in game four of the 2012 ALCS against the Detroit Tigers at Comerica Park. The Tigers won 8-1 to sweep the series and advance to the World Series. Photo Courtesy By John Munson/THE STAR-LEDGER via US PRESSWIRE.

Trade A-Rod?

If they Yankees are unable to to have anyone look at signing A-Rod outright, what about trading for the 3-time MVP Winner? This is an option, and I feel's there's three teams that would be interested in trading for A-Rod (pending of course the Yankees eat a good chunk of his contract).


Los Angeles Dodgers: A-Rod goes to Hollywood...Could it be. Well yes. The Dodgers new Ownership Group has shown their willing to take risks, spend a significant amount of money, and bring in a lot of star power to their franchise. During the season, Los Angeles added a number of big name stars to their roster (Hanley Ramirez, Shane Victorino, Carl Crawford, Adrian Gonzalez, Josh Beckett, Brandon League, and Joe Blanton) so they've proven they could be apart of the mix for Alex Rodriguez. In addition to that, the Dodgers still need a third baseman as last year Hanley Ramirez proved that he's not interested in playing Third Base so LA could slide Ramirez back to Shortstop where he wants to be and trade Dee Gordon to get a few more assets. If the Dodgers trade Dee Gordon and get a few nice prospects in return, then they could have the Yankees eat more of A-Rod's contract and New York could at the same time add good depth to their farm system.


Miami Marlins: So let the A-Rod to Miami rumors begin. As we've seen in the past, Marlins owner Jeffrey Loria loves having his newly named franchise in the news for better or worse. This franchise has made a number of bold moves since they became the Miami marlins which include: signing the most polarizing manager in baseball (who might be fired in a few weeks), signed their first 100 million dollar player (Jose Reyes), signed a 3-Time MLB All-Star Pitcher (Mark Buehrle), Signed a 2-Time winner of the Rolaids Relief Man of the Year winner (Heath Bell...lets just say this year didn't workout so well for Heath or the Marlins), were apart of a Reality TV Show (which was canceled before the end of the season because of their performance on the field), and finally traded the face of their franchise for the past 6+ years for a minor league pitcher that wasn't considered a top prospect and all of that occurred in less than a year. What a team...what a franchise, it seems like the perfect spot for Alex Rodriguez. If that wasn't enough, Rodriguez grew up in the Miami Area and is still very involved downin the Greater Miami Area. If A-Rod was to leave New York for another Location, I feel this might be the best fit for him both on and off the field.

Chicago White Sox: My last team that I feel will also take a look at Alex Rodriguez are the Chicago White Sox. Why...for a number of reasons. For one, White Sox General Manager Ken Williams has always been a big fan of Rodriguez in the past and has shown that he's not afraid of make a bold move even if other don't agree with it. The White Sox front office has also brought in a number of older Super Stars in the past and have given them another chance including: Jim Thome, Ken Griffey Jr., Manny Ramirez, and Kevin Youkilis to name a few.
Cut A-Rod?

Could it be...could the New York Yankees outright release Alex Rodriguez following the 2012 season? Well...yes. However, with that said, I'm not sure the current situation is bad enough between A-Rod and the Yankees for them to outright release the former 3-Time MVP Winner but its still an option for New York to chose from.


What will happen?

In my opinion, I believe Alex Rodriguez will either stay with the Yankees next year or get traded to the Miami Marlins. Last offseason was all about where Albert and Prince would sign...this offseason will be all about where A-Rod will play next year.

Here's an article discussing major league playoff baseball's excitement and why it is so important to American sports fans.
Have a Comment?
Do you have a comment about NY Sports? Here's the place to make it -- and let others read it and respond.
---
From New York Yankees Update: Where Does Alex Rodriguez Go From Here to NY Yankees Blog | The Best NY Sports Blog | New York Jets Blog | NY Giants Blog | NY Mets Blog | NY Knicks Blog | NJ Nets Blog | NY Sports Fan Forum | Current NY Sports News | Top Ny Sports Blogs | The Best NY Sports Videos | NY Sports Fan Gear |
---
Homepage | About Us | Contact Us | Questions |
---