New York Jets 2012-2013 NFL Season Outlook
By Charles Phelps

After a couple of fights in training camp, and the hysteria that is Tim Tebow, the Jets2012 season is going to be a complicated one to explain. In hindsight, we don't know what to expect, but if the offseason fights and the debate of a "quarterback controversy" continue, then the team may could be on a collision course of disaster.
However, with the addition of Tebow, the Jets are hoping to have a change of pace to their offense; remember,Tebow ran by the entire Jets defense in their meeting last season. The wildcat may help them in the redzone. They added the man who brought the wildcat into the NFL, Tony Sparano. But, whileTebow was starting in Denver, the wide receivers' struggled to adapt to a tailored offense--but one person thrived—running back Willis McGahee.


Mark Sanchez is going to be the starting quarterback, but when Tebow comes into games, they'll be running the ball straight at the opposing defenses'. Some of it will be Tebow himself, but Jets running back, Shonn Greene, will have his chance to shine.


Greene—entering his fourth season in the league—should easily go over the 1,000-yard mark (it would be his second 1,000-yard season). He only scored 6-rushing touchdowns in 2011, but with Tebow, that number should increase.


The Jets have two receiving weapon—Santonio Holmes and Dustin Keller—but will opposing defenses respect the passing game at all? They may not. If they don't, Greene will have to step up even more and take on 8 or 9-man boxes; that'll be without Tebow in the game.


The defense will have to be conditioned because they're going to be in some close games and that's regardless of who the quarterback is. They can't allow the yards and points to get away from them as it did towards the end of last season. Demoralizing losses to the Eagles and Giants ended any playoff hope.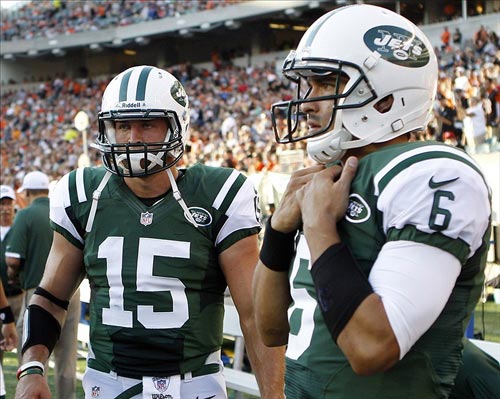 Aug 10, 2012; Cincinnati, OH, USA; New York Jets quarterbacks Tim Tebow (15) and quarterback Mark Sanchez (6) stand on the sidelines during the first half against the Cincinnati Bengals at Paul Brown Stadium. Photo Courtesy By Frank Victores-US PRESSWIRE.


What about the culture change? Head coach Rex Ryan hasn't made a Super Bowl guarantee this offseason. He wants his locker room to be free of the pressure he puts out to the media—so he has opted not to say much.


Their schedule isn't favorable to start the season. Four of their first seven opponents made the playoffs last season. Those teams are the 49ers, Texans, Patriots and Steelers. Two of the games are on the road (Steelers in week 2, and Patriots week 7). After that the schedule becomes favorable. The only .500 team they play from last season is the Patriots on Thanksgiving night. They may make a lot of ground up; that's if they don't implode at the start.


However, if the Jets make it to the playoffs, they've proven to be a formidable foe to anyone they play. Their victories include wins at New England (after Brady won his second MVP, and a 14-2 record), San Diego and Indianapolis (Manning's last game as a Colt). This year, a home playoff game would be nice. It may help propel the team over the hump if it's a potential AFC championship game (which they've made two appearances in the past three years, but failed to win either one).


If we're setting expectations now, I give the Jets a 50 percent chance to make the playoffs. That sounds cliché because they will or they won't—however, Rex Ryan has proven to be a great coach who can motivate his team, especially in January. If his new approach works, then he's a genius, if not he may be trying to find another vacancy. In sports though, winning cures all, and if they can make it into the playoffs, Ryan's job should be secure and it will be hard to bet against them (at least in the first two rounds). Prediction: they will have a 9-7 record, one better than 2011.
Have a Comment?
Do you have a comment about NY Sports? Here's the place to make it -- and let others read it and respond.
---
From New York Jets 2012-2013 NFL Season Outlook to New York Jets Blog | The Best NY Sports Blog | NY Giants Blog | NY Yankees Blog | NY Mets Blog | NY Knicks Blog | NJ Nets Blog | NY Sports Fan Forum | Current NY Sports News | Top Ny Sports Blogs | The Best NY Sports Videos | NY Sports Fan Gear |
---
Homepage | About Us | Contact Us | Questions |
---