New Jersey Nets: The Race for the 8th
NBA Playoff Spot Begins
For all the hype being built around the Nets moving to Brooklyn, Nets fans could not help but be optimistic about their team when they went into the offseason.


Well since that fateful early spring day, it is easy to say that the Nets offseason is but a peppercorn to the story book delusions that floated around Net's Nation earlier this year.
After the deal for Dwight Howard was killed in mid July, it started to become clear that this year would be another season filled with Nets fans hopes of glory resting on their ability to sneak into the 8th seed in the East.


Joe Johnson provides an answer…the wrong one


For anyone who thought the Nets were signing Joe Johnson for any other reason than to entice Howard and Deron Williams to find a way to team up in Brooklyn, it's now time to take your head out of the sand.


Joe Johnson is defiantly not the answer for the Nets and, although his 18.8 points and nearly 4 assists per game may provide Nets fans with some hope, his aging body and inability to keep his mouth shut, may prove otherwise.


Beyond the play on the court, Johnson's $89 million contract will also prove burdensome to the Nets moving forward. The affect of Johnson's salary will especially be felt once the trade deadline approaches and the Nets are in desperate need of tweaking their roster to make a playoff run.


Can we get a 7 footer that rebounds?


Brook Lopez has been a pleasant surprise for the Nets with his offensive ability. It even got to the point where Lopez was considered the marquee piece of a potential Howard trade, certainly a credit to his ability to put the ball in the hoop.


With all of this ability however, the hope of getting the 8.2 rebounds he averaged in his sophomore season at Stanford has all but evaporated.


Last year Lopez grabbed a mind numbing 3.6 rebounds per contest. Although it can be argued that rebounding is not the main concern of a player who is averaging 19 points per-game, when you are the tallest player on the roster by 3 inches, yet are only the 6th leading rebounder on the team, there is definitely something missing.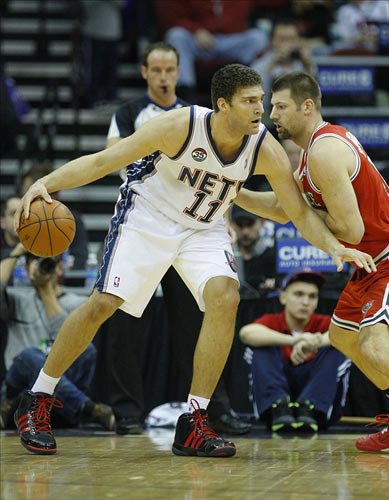 Feb 19, 2012; Newark, NJ, USA; New Jersey Nets center Brook Lopez (11) works against Milwaukee Bucks forward Jon Brockman (40) at the Prudential Center. Photo Courtesy By Jim O'Connor-US PRESSWIRE.

Who in the name of Latrell Sprewell did we draft?


There should have been no hopes from Nets fans that with the 41st pick in this year's draft that the Nets would get any help for this year. They certainly did not disappoint this preconceived notion with their Tyshon Taylor pick. Although Tyshon produced a strong senior season for the Jayhawks, he will need a lot more polishing of his game, including the development of an outside jump shot, if he is going to be anything more than an 8 minute garbage man at the end of the bench.


Perhaps the biggest hope for contribution this year may be the Nets' last pick, a Turkish professional player by the name of Ilkan Karaman. Extremely productive in last year's season with his Turkish professional team, Karaman averaged over 10 points and grabbed over 6 rebounds a game in just over 23 minutes of action. With his athleticism and eerily similar neck tattoo, Karaman has drawn comparisons to Kenyon Martin, certainly not a bad reputation to have for an unproven rookie. Also, at nearly 6' 10" tall, he could be forced into the limelight a lot earlier then his other rookie teammates if there is an issue at the top of the big man food chain.


The Nets have holes, lots of them. However, with each new season comes a hope that certain players will exceed fans expectations, turning the Nets into a team that Brooklyn fans can rally behind. Just don't expect Spike to purchase season tickets anytime soon.
Have a Comment?
Do you have a comment about NY Sports? Here's the place to make it -- and let others read it and respond.
---
From New Jersey Nets: The Race for the 8th NBA Playoff Spot Begins to NJ Nets Blog | The Best NY Sports Blog | New York Jets Blog | NY Giants Blog | NY Yankees Blog | NY Mets Blog | NY Knicks Blog | NY Sports Fan Forum | Current NY Sports News | Top Ny Sports Blogs | The Best NY Sports Videos | NY Sports Fan Gear |
---
Homepage | About Us | Contact Us | Questions |
---