Kids Wish Network and the Elks Lodge #115 Grant a Teen's Wish to Attend a New York Yankees Game
by Jill Atchison
(Florida)
READING, Penn. – A boy who suffers from cancer just had his wish to attend a New York Yankees Game at Yankees Stadium granted by national children's charity Kids Wish Network and his local Elks Lodge #115.


Mason has always been a New York Yankees fan. He collects Yankees memorabilia, he never misses a game on TV and he takes pride in his knowledge of Yankees trivia. So, when he was told to wish for anything his heart desired, it came as no surprise that he asked if he could attend a Yankees game at the famous Yankee Stadium.
Mason was given the chance to wish through national children's charity Kids Wish Network, whose goal is to grant the wishes of children like Mason. You see, earlier this year, Mason started having issues with his memory and maintaining eye contact. He had a seizure and was taken in to the hospital to see what was wrong. A CT scan found a tumor on his brain; the issues were directly related to the tumor. Mason's doctors determined that the tumor needs to be removed before it affects the other side of his brain and they have recently scheduled a surgery.
Mason's mother found out about the charity through their website and, after getting in contact with a Kids Wish Network wish coordinator and exchanging paperwork, Mason was approved to have his wish granted. Once approved, Mason's wish was funded completely by his local Elks Lodge # 115.The Elks secretary, Elwood (Slug) Oxenreider, is an avid baseball fan himself and was instrumental in getting funding for Mason's wish very quickly.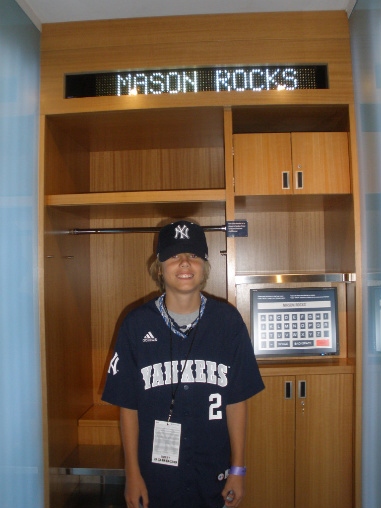 Mason Rocks Sign.
---
For his wish, Mason and his family would head to New York and stay at the amazing 70 Park Avenue Hotel. When they arrived there, Mason was greeted like star baseball player himself! As soon as he walked in, everyone greeted him and cheered for him while the staff presented him with a Yankees hat and jersey. In his room, which was a luxurious penthouse suite, there were all sorts of Yankees memorabilia, decorations and presents just for Mason.
"He definitely enjoyed it," said Mason's mother, Aime. "He was in awe."
After a night of rest, Mason and his family were picked up in a stretch limousine and taken to Yankees Stadium. Beforehand, it was arranged that Mason would head to Yankee Stadium the day after Derek Jeter, Mason's favorite player, would make his 3000th career hit. However, as luck would have it, the game was postponed due to rain and Mason was able to witness the history-making event in person from a seat directly behind home plate!
Of course, as cool as that was for the young Yankees fan, he was treated to something even cooler before the game even started: a chance to watch the batting practice and a trip to the dugout to talk with some of the Yankees.
"He had a blast," said Aime. "He even got to share a smile with Derek Jeter…he's as happy as can be. When we got back to the seats, he didn't want to leave; he didn't get up for anything and just took it all in."
When he got back to the hotel that night, Mason could hardly believe what he had just experienced and now that he's home, Mason is still having a blast looking at pictures and presents from his amazing wish.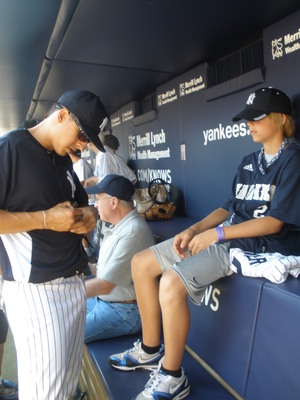 Signing.
---
According to Aime, "It was just the most amazing weekend for Mason. He had the time of his life and I think he's still in shock. His dreams definitely came true."
Kids Wish Network
would like to thank the following for helping to make Mason's wish extra special: Elks Lodge #115, Woodmen of the World, The New York Yankees and 70 Park Avenue Hotel.
Kids Wish Network
is a national charitable organization dedicated to infusing hope, creating happy memories, and improving the quality of life for children having experienced life-altering situations. Kids Wish Network assists children and their families through several key programs. Every child deserves a chance at happiness; a wish is just a way of bringing them that joy. If you would like to sponsor a child's wish or if you know a child who is suffering from a life-threatening illness and may be in need of Kids Wish Network's
wish
granting services, please call 727-937-3600 or toll free 888-918-9004. For more information on Kids Wish Network, visit their website at
www.kidswishnetwork.org