New York Knicks: Charles Oakley's "Call Out" of Knicks Stars is Important Piece of the Puzzle
Let's face it, the Knicks need to show some resolve. They need to show their fan base that they can rally around adversity and make the plays that matter most when the cards have been stacked against them. As much as Knicks' fans may hate to hear it, we need a Lebron James like rebound from our disappointing 2012 season.
With questions as to this year's Knicks lingering on many fans' minds since the end of the season, the answer may have been found in the words of one time Knick great, Charles Oakley.
In a recent interview with the New York Daily News, Oakley stated that the problem with the Knicks superstars Amare Stoudemire and Carmelo Anthony is that they do not make their teammates better, a statement that certainly has a ring of truth to it.
If a call out from one of the most well known Knicks of all time, who had a reputation as a fierce rebounder, tenacious defender and a player who did not back down from any skirmish with Charles Barkley, does not motivate our well paid superstars, then there is little else that can be done.
When Oakley voiced his opinion, he may have been looking at Amarewho, although dedicating himself to work this offseason onimproving his postgame, may have missed the mark on what the true definition of being a complete player is. Amare's ability to score will be helpful, but what may be even more helpful, is for him to improve on his 7.8 rebounds per game that he averaged in the 2012 season. An improvement in this area, along with some work on his defensive presence,is exactly what Knicks's fans and Oakley are hoping Hakeem will instill in Amare during their workout sessions, instead of teaching him how to float a sky hook from 12 feet.
When Oakley made these statements, he may also have also been thinking of the lack of consistent bench scorers. Last year, J.R. Smith at 12.5 per game led the team, which in itself is respectable.However, the points dropped significantly from Smith, who was followed byShumpert at 9.5 and Novak at 8 .8.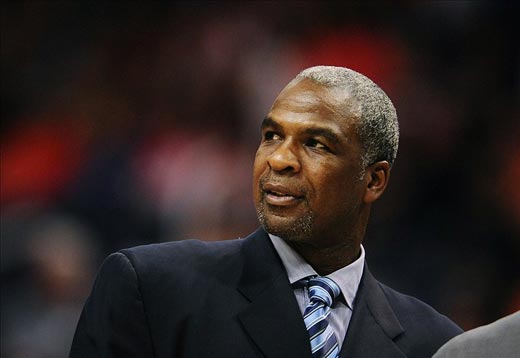 Jan. 26, 2011; Phoenix, AZ, USA; Charlotte Bobcats assistant coach Charles Oakley against the Phoenix Suns at the US Airways Center. The Bobcats defeated the Suns 114-107. Photo Courtesy By Mark J. Rebilas-US PRESSWIRE.
---
The route of the poor bench production may be found in the amount of shots Novak and Shumpertwere able to take, which at only 16 a game makes their average point production rather impressive.
Along with the inadequate bench scoring, Oakley may also have been thinking about Carmelo's assist numbers which at 3.6 per game is only good enough for 57thin the league. In fact, Carmelo was beat in this category by players such as Paul Gasol, Boris Diaw and James Harden, all who with their limited mobility, were able to get their teammates more involved in the game then Carmelo could.
Whatever Oakley's state-of-mind was when he made his comments about Carmelo and Amare, they could not have come at a better time. Hopefully more Knicks alumni will follow suit, putting the pressure on the current Knicks' roster to find any way possible to truly honor the blue collar Knicks of times past. It is the Oakleys, Masons, Starks and Ewings who have paved the way to stardom for the current players. So, for the good of the Garden, now is the time for our stars to sit back and finally listen to what these historic gladiators are telling them.
Have a Comment?
Do you have a comment about NY Sports? Here's the place to make it -- and let others read it and respond.
---
From Charles Oakley's "Call Out" of Knicks Stars is Important Piece of the Puzzle to NY Knicks Blog | The Best NY Sports Blog | New York Jets Blog | NY Giants Blog | NY Yankees Blog | NY Mets Blog | NJ Nets Blog | NY Sports Fan Forum | Current NY Sports News | Top Ny Sports Blogs | The Best NY Sports Videos | NY Sports Fan Gear |
---
Homepage | About Us | Contact Us | Questions |
---