9/11 and Rex Ryan
By Stephen Childs
Following the attacks on September 11, 2001, New York's professional athletes and coaches tried to put sports in perspective. Off the field, athletes and coaches gave freely of their time and money to help New York's recovery. On the field, they tried to ease New Yorkers' transition back into 'normalcy,' to buoy despondent spirits, and, if they could, to give the city something to cheer for. Wins and losses mattered less than solidarity and healing.
But Rex Ryan's comments this week that he feels more pressure to win the Jets' season opener on Sunday – the tenth anniversary of the 9/11 attacks – than he has felt to win any game in his career marks a striking change in the relationship between New York sports and 9/11.

In the fall of 2001, New York's players and coaches exemplified the city's mood, giving what they could to help the victims and their families in any way possible. Right after the attacks, then Mets skipper Bobby Valentine worked at what became a staging area for relief workers at Shea Stadium. Later, he became a mentor to the Conroy children of Brooklyn, four siblings who lost their father on 9/11 – and with whom he still remains close.

Similarly, erstwhile Giants head coach Jim Fassel started the Fassel Foundation to assist families affected by 9/11. In particular, Fassel helped Jean Palombo and her ten children whose father, Frank, a Brooklyn firefighter with Engine 219, died inside the South Tower when it collapsed. Fassel not only helped – and continues to help – the Palombo's financially, but, like Valentine did for the Conroy's, he became a sort of mentor to the ten Palombo children. "It's hard in our job to keep things in perspective," Fassel, whose job security was in question, said. "We lost the game, they lost their father."

Athletes also contributed their money and became more accessible, hoping to bring a modicum of relief to struggling fans – especially children. Those efforts to help continue as charities, like Tuesday's Children, partner with hometown teams to raise money and bring the families of victims to games.

And on the field that fall, competition took on a more symbolic meaning in which games were played – less to determine the better team, and more to display unity and help a reeling city and nation overcome a stunning catastrophe.

"I felt it was absolutely paramount that we stand tall and resume play in our home stadium," explained Bobby Valentine recounting his thinking on how and if the Mets would finish their season. "I reached out to Bobby Cox, the manager of our archrivals, the Braves. We agreed very quickly that we needed to show some solidarity, we needed to show some strength, that our players should all embrace each other before the game, and possibly after the game."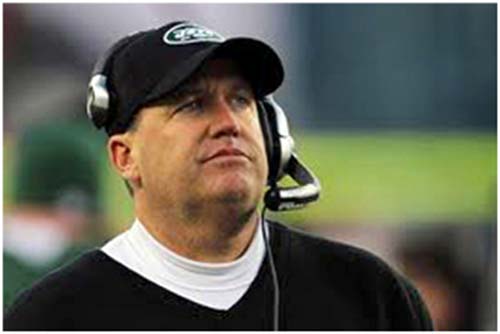 NY Jets vs Pittsburg Steelers AFC Championship game at Heinz Field Pittsburg Pa: Jets loose to the Steelers 24-19. Head coach Rex Ryan walks off the field after the loss.
---

That game, Friday night, September 21, was the first professional sports game in New York City since the calamities ten days earlier, and remains etched indelibly onto the minds of New York sports fans. Wearing NYPD and FDNY caps, the Mets trailed the Braves 2-1 into the bottom of the 8th inning when a Mike Piazza two-run-homerun to left-center-field boosted the Mets into the lead and gave New Yorkers a chance to shout – for the first time in days – out of joy.

The Braves lost 3-2, but saw the game more for what it represented as a catharsis than for how it set them back in the loss-column. ""I think each and every one of us will tell you if there's been one game in our entire careers that we didn't mind losing, it was that one," said long-time Mets scourge Chipper Jones. "We thought it was our duty to go out and take a city and a country's mind off something terrible that had happened. If it was up to us to go entertain people for three hours, then that was our way of giving something back."

And in the Bronx, the Yankees, who battled to the 2001 Fall Classic where they ultimately fell to the Arizona D-backs, echoed those sentiments. "We healed a little bit and I think that's what we remember about the time," Jorge Posada, one of three Yankees with the club since before 2001, said this week.

"To me, that's the best World Series we played," long-time Yankees closer Mariano Rivera explained. "We fell short, but we did everything in our power to win the World Series and give New York what they deserved.…There was satisfaction even though we lost, because we fought….I save games, they save lives. That's what real heroes are all about."

But on Tuesday, Rex Ryan changed the tone. "This whole region, this whole area, I know it's football, we're not talking about life or death or anything else, but that's how I'm taking it," he said. "I can't explain why I feel this way but I just do."

Ryan's statements about this Sunday's Jets' season opener against the Dallas Cowboys fly in the face of all the expressions of thosewho played and coached in the city ten years ago.

Suddenly, Ryan has tried to connect winning with healing. In so doing, he has lost sight of how New York used sports to cope after 9/11.

Whether his comments are a motivational ploy or genuine, Ryan, with his insatiable penchant for the dramatic, has tried to arrogate the loss shared by a nation to the city in which it occurred.Sadly, Ryan's self-important attitude trivializes the spirit of unity and sense of perspective that pervaded New York sports in the autumn of 2001. Luckily, he can never tarnish how his predecessors helped a city and a nation grieve ten years ago.
Have a Comment?
Do you have a comment about NY Sports? Here's the place to make it -- and let others read it and respond.
---
From 9/11 and Rex Ryan to New York Jets Blog | The Best NY Sports Blog | NY Giants Blog | NY Yankees Blog | NY Mets Blog | NY Knicks Blog | NJ Nets Blog | NY Sports Fan Forum | Current NY Sports News | Top Ny Sports Blogs | The Best NY Sports Videos | NY Sports Fan Gear |
Return to The Best NY Sports Blog Homepage
---